Prenatal Yoga
---
Congratulations on your pregnancy!
Janice is no longer teaching public Prenatal Yoga classes or Birth Couples workshops. She is working with pregnant women and couples privately. Please contact janice@urbanyoga for more information or to book an appointment.
The Prenatal Yoga sessions provide an opportunity for expectant women to develop greater vitality and awareness of your body that is home for two, as well as to deepen your relationship with your baby. Gentle postures, breath work, visualization, vocal toning and meditation are learned to cultivate flexibility, calm and confidence in preparation for labour and childbirth. Women are empowered to enhance their ability to access greater relaxation, comfort, and enjoyment. Women realize their innate courage to resolve the fears and anxieties that naturally arise during pregnancy Calm and flexibility ease the birthing process, thus reducing pain and increasing the joy of giving birth. With prenatal yoga, women prepare an active and as natural birth a birth as possible.

PREPARATION FOR CHILDBIRTH COUPLES YOGA SESSION
This workshop provides an opportunity for couples together to enhance awareness of and confidence in pregnancy, labour and birth.
Create optimum conditions for birth to be as healthy, normal and natural as possible, while diminishing the need for medical intervention.
Through discussion, gentle postures, breath work, visualization, massage, meditation and vocal toning , couples learn to skillfully access a calm presence, however the the birth unfolds . Calm presence powerfully eases any birthing process, thereby increasing the joy of giving birth, enhancing family bonding and reducing pain.
Couples will practice postures together that are both beneficial and enjoyable for the rest of pregnancy and during labour. Partners feel more connected to their not yet born baby. There is no "one right way" to give birth, other than the way that is "right" for each couple. This session will facilitate couples together making informed, wise and empowering choices.
The calm presence and loving encouragement of a woman's partner is a powerful aid to labour and delivery, for both mom and baby. Partners understand how to support the birthing mom with sensitivity and confidence. This awareness and calm presence lessens the requirement for medical intervention, thereby creating optimum conditions for you baby's healthy emergence, which nurtures loving family bonding.
Deepen your relationship with yourselves and your not yet born child. Beneficial at any time during your pregnancy.
NO PREVIOUS EXPERIENCE NECESSARY BENEFICIAL FOR 2nd & 3rd, etc PREGNANCIES TOO! REVIEW HAND OUT NOTES WILL BE PROVIDED
"Thank you for your incredible contribution to my whole birthing process. Your wise counsel and support with the yoga practice gave me the confidence to birth intuitively and naturally. You are an amazing teacher." M Pankratz
Janice Clarfield sits on the Prenatal Yoga Advisory Committee for Yoga Alliance, USA. She trains birthing professionals around the world to work with pregnant women and expectant couples.
Janice enjoys and international reputation as an inspiring teacher who is recognized for her groundbreaking and inspirational work with expectant parents and the whole birthing journey.
She is passionate about the next generation being birthed as wisely and compassionately as possible. Janice is interested in creating optimum conditions for women and couples to empower themselves and diminish the necessity for medical interventions. Couples access their own vast internal resources to make wise and healthy choices, however the birthing culture is in their own community and however the birth unfolds.
She is the author of a study guide for prenatal yoga teachers and has recorded a CD for pregnancy and birth preparation.
To make an appointment:
janice@urbanyoga.ca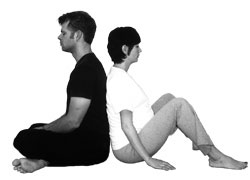 ---